MARCH 22: Finally, I have done one of the items in my "Things To Do Before I Shrivel & Die" list! I did the whale encounter at Ocean Adventure!!!

We spent most of the day at Ocean Adventure doing all sorts of fun, knowledge-enriching and highly entertaining activities. Here's one trivia I was surprised to learn: did you know that a sea lion and a seal is NOT the same thing? The sea lion is larger and it has prominent ears, big front & back flippers. During the sea lion show, they even have a humorous segment of the sea lions imitating the funny, squirmy way of how the seals walk on land. We watched the sea lion show twice, with 2 different sets of talented, endearing sea lions. They are just soooo cute, I swear! :)

We also spent time marvelling at the colorful fishes at the Discovery Aquarium and we also watched the awesome whale and dolphin show.

All of the crew members, park attendants, whale/dolphin/sea lion trainers were very friendly and accommodating to us. I give 'em 5 stars for excellent customer service! :)

We snapped about 320MB worth of videos and photos, PLUS, my dad took more film shots on his SLR camera! When you're at Ocean Adventure, there's a myriad of sceneries and marine animals to take pictures of. It's practically a photographer's paradise! Here are collages of selected digital pictures...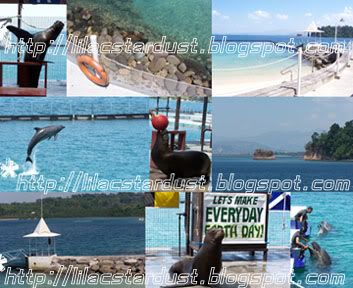 let's make everyday EARTH DAY! :)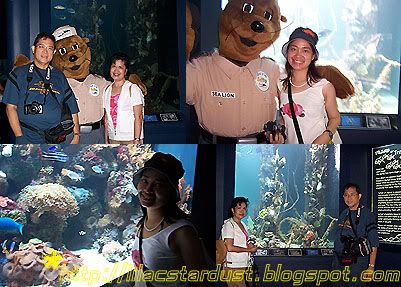 that BIG sea lion mascot sneaked up behind me and suddenly tapped me! man, I got *gulat*! :P
look, there's Nemo and Dory! ;-)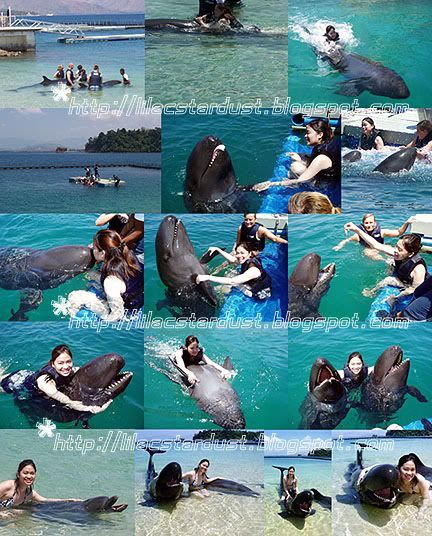 A priceless encounter with Pounder and Hook (both females), the false killer whales... I did the encounter with three Boracay-bound tourists from Denmark. At the shore, a different whale (male this time) and a dolphin joined me for photo opp.

One long, cold, wet, fishy kiss from Brandy the sea lion. Soooo adorable!!!