This is the last goodbye. Well, actually, last night was. *sigh*

I did not get teary-eyed when, at the start of the show, Red was already turning his back on us while he was on stage... taking a deep breath, composing himself and trying real hard not to cry. I did not cry while I was taking the video of Red while he was singing his last rendition of "Maghihintay Sayo". I just had a heavy feeling while I was taking the vid. I did not cry when I beso-hugged him goodbye after the show. This morning, I downloaded the pictures and the videos I took last night from the fellas' gig at Dish. And there ya go... It was when I was watching the video of Red singing "Maghihintay..." that I started to cry. Hayyy. I was crying the entire time while I watched Red struggling real hard to sing as the tears were welling up inside him.

There. I just downloaded the sadness of the entire night :( *sigh*

(Oh but it was happy na rin coz it was Karl's b-day *actually today* and because of Myke's sinigang na puro sitaw, KAMOTE at Robi-pork :P... )



I am sooo gonna miss this dude :( ...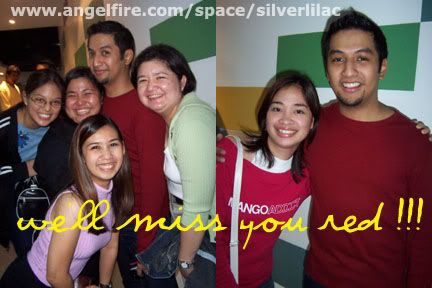 Hehe, since I was the one who took the pic of Red with Sarah, Tere, Hogi and Teena... I told them "Ok, sige, mamaya solo 'ko with Red! :P"...

Goodbye Red! I'm sooo gonna miss you :( Good luck on the new path you're about to take! :) I'm sure you'll kick major ass in NYC! :)