*wasted me after coming home from Aliw Theater*
'Attended the
Manila Film Fest 2004
last Monday at Aliw Theater since we were one of the major sponsors. We presented the
Best in Cinematography
award. Good thing the
HD-shot
"Naglalayag"
by Angora Films did not win or else it would've been a virtual slap to our face since it's
NOT
shot on film at all. Twas VIVA's
"Kulimlim"
by Odyssey Flores (???) which won.
Naglalayag
was the big winner of the night. It won
Best Picture, Best Director
(Maryo J. Caparas)
,
Best Actor
(Yul Servo)
and
Actress
(Nora Aunor).
My senses were scandalized upon seeing the kissing scenes of Yul Servo and Nora Aunor.
*gags* barf bag, please*
(Ackkk. There just might be some Noranian surfer out there who's reading my blog right now. My apologies.)
So okayyy... That night was the time to be on jologs-mode and star-gaze to my heart's content ;)
These three hotties made my night:
1)
Gaah. I do not know his name. This was the dude who played the stripper in last year's Metro Manila Film Fest entry
"Bridal Shower".
I see him now in GMA 7's spoof Marinara. I was staring at him from where we were seated
(row 5 right across the presenter's podium)
during the gap when he had just come up the stage. And then, holy cow, he saw me looking at him and he flashed this oh-so-melting smile. Gaaah. Petrified, I looked away.
*toinks self for not smiling back at him*
2)
Oh my gulay, I was surprised to see R & B prince
Jay-R
as a performer there! Good thing I did not leave early. His number was during the latter part of the show. Such hotness in that dude.
3)
Okay, believe me, when you meet
Robin Padilla
personally, you will definitely get mesmerized. I swear. Last year, also in the Manila Film Fest, he sat right in front of us. Initially, I was like
"yuuuck. Robin?! Ackkk. I don't like him."
when my officemate was going goo-goo over him. But then we got to talk to him a bit when we asked him to pose for a pic and he's like oozing with charm. No wonder every single leading lady of his gets involved with him. I liked his hair better last year than last Monday but nevertheless, he is still handsome. He is truly a star. There was some ruckus during one of the gaps and my officemate wondered what was up. I kidded that maybe Robin just arrived. True enough, in walked Robin.
*more shrieks*
Oh by the way, predictably, he won
"Star of the Night".
Here are some of the noteworthy presentors and/or winners:
Gary Estrada
was still handsome. 'Had a crush on this dude way back in 2nd year high school when we fortunately had the same hotel in HK and had same flight back home -- he even saw me really pale from having just thrown up due to dizziness. Very wonderful, lasting impression of me, right? Haha.
Ciara Sotto
, in fairness, looked pretty that night. She at least did not look like the female version of Tito Sotto sans the mustache.
Iza Calzado
, now this gal's very pretty. Really nice face. She co-presented with this dude from the Power Boys/Rexona ad fame.
Jean Garcia
was also surprisingly very stunning. It would have been better though if she thought of having her knees bleached before deciding to wear that revealing gown.
Andrea del Rosario
was quite thin in person.
Yul Servo
: Holy cow, I can't believe he beat Robin Padilla in the
Best Actor
category! He was always smiling. He reminded me of
Mo Twister
and
Prinsipe K of Okay Ka Fairy Ko
at the same time. There's
Judy Ann
(slimmed down compared to last year's show),
Wendell Ramos
,
Jay Manalo
(ay caramba, hot dude!),
Victor Neri
(some kinda hot too)
and
Tanya Garcia
who kinda looked like Bea Alonzo (???).
Ara Mina
was one of the hosts
(along with TJ Manotoc and Lorna T who mysteriously disappeared half-way through the show).
Ara's got a really pretty face, it's just that she is huge everywhere - boobs, waist, hips. I didn't get a picture of her coz the hosts were always on the other side of the stage. Anyway, can I just say she
"murdered"
our company name?! Ackkk. For the life of me, I cannot fathom why she cannot pronounce
"Kodak"
even if it were to save her own life. It's supposed to be
"code-ac"
not "kodakkkk" like
"KOKAK!". Ayayayay.
Another blooper: On the VTR, the text read as "Best TEAM song".
Helllerrrr?!?!
Ano yun? As in "Go red team! Go blue team".
Ayayayayay
again.
Albert Martinez
was also handsome. The Botox treatment is not obvious. But
hellloooo
, I dunno what's up with him. He made a blooper and thanked "Mayor Lim" instead of Mayor Atienza! And he did it at least twice in his acceptance speech after winning
Best Supporting Actor
. Well I sure hope he isn't on what his bro William is/was taking.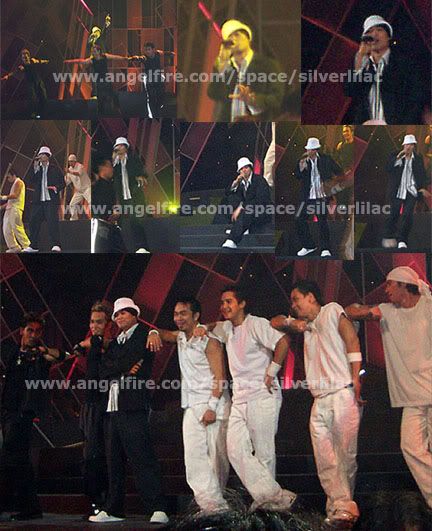 The hot R&B prince
Jay-R
(plus I think that's one of the Manouevers dude...)
'Almost fell out of my seat when I saw him onstage. I didn't know that he was performing. I frantically snapped away. Ooh, such a spiffy outfit! Oh and by the way, my officemate said Keith Martin was there watching the show. Yes. He is STILL here. Ackkk. Is he EVER coming back to the US? Hmm.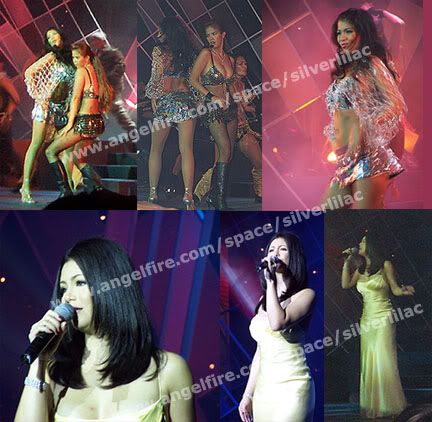 There's
Geneva Cruz
wearing that familiar studded sparkling net top. Feeling very Beyonce-
ish
and Britney-
ish
. Predictably, she sang songs from both artists. Gaah.
Patricia Javier
is really super sexy. Holy cow, her boobs are so huge they look like they're the same size as my butt! Ackkk. There's
Regine Velasquez
and her mysteriously hickey'd (?) right boob. We surmise it was probably fresh from backstage or it would've been concealed by her make-up artist before she even paraded onstage. Whatever. She reminds me of Michael Jackson. Must be coz of her white face, black hair and her eyes. But whoa. I did not realize she had her boobs made in such, ermm, boldstar-
ish
proportions. It looks ermm, weird on her. Oh but she did gain so much weight. Oh well, I guess her waistline, hips and arms matches the size of her post-surgery chest now. But no one can argue, she still has the best kili-kili in town. Her pits are sooo worth all the skin peeling and whathaveyous she had done. Teehee.
Okay. I am being too Joan Rivers-
ish
. This has been way too entertaining to write. Teehee.