So why was I experiencing total madness a few weeks ago?
Why did I miss catching the 2-DAY FINALE of ROCK STAR SUPERNOVA? [ yeah, I'm still sulking about this :( ]
This is the answer.

I was so swamped with work that entailed me to go to the office early and come home at 9ish pm. We had a Super 16mm Cinematography Workshop from Sept. 12 to 15. Director of Photography Joe d' Alessandro from Rochester, New York conducted the workshop for us. Among his familiar works are I Know What You Did Last Summer, One Tree Hill and Dawson's Creek. We had nine Filipino workshop participants. Instead of doing a hassle-free staging of scenes with different lighting, the participants actually experienced lighting and shooting a real music video. Through the help of Director Mike Sandejas (of the Cinemalaya Best Picture "Tulad ng Dati" fame), we had a deal of shooting the new music video of The Dawn on 16mm Kodak motion picture film.

In my 5 years of doing marketing events and such, this, by far, is the most gruelling and stressful event I have ever planned & implemented. After experiencing actual production work, I don't think I would ever have the stamina to be in that kind of career. It's sooo stressful that I would have probably looked 40 when I was just 28 years old. And I would probably get asthma attacks every now and then due to the sweat-inducing stress of it all. Oh and how we have experienced Murphy's Law almost every single day! I hate Murphy. hah! :p

Overall -- despite all that back/armpit/chest sweat -- it was such a cool experience for me. Imagine meeting The Dawn (that great 80's icon who's now celebrating their 20th year and coming out with a new album; that band who starred in Tulad ng Dati; Enveloped Ideas, Iisang Bangka Tayo, Salamat, Love Will Set Us Free... if that doesn't ring a bell, then you're one musically-deprived Filipino!) as part of my job! I've only seen them perform live twice: first time on one of the Warner Bar tours and the other time with Mig Ayesa at Capones. Spending two full days with the band was quite interesting since I got to witness sneak previews of their on and off-cam behavior.

The Dawn is comprised of Jett Pangan on vocals, Francis Reyes on guitars (he happens to be one of my fave bloggers at livejournal! he's also known as Francis Brew on NU107), JB Leonor on drums and Buddy Zabala on bass (he's probably best known as the bassist of the great 90s band Eraserheads).

It was one helluva ride doing that 2-day music vid shoot and it was also neat to get a coupla photography tips from Francis who also takes cool digital photos. I was actually tempted to bring my ultraelectromagneticpop and Anthology CD to have Buddy sign it but uhh, I chickened out, haha. I wasn't sure if it would be a great idea now that it's already year 2006 & he's playing for a new band and knowing that the e-heads disbanded in a not-so-amicable way.

Anyway, I'm too lazy to write a detailed day-to-day narrative of the workshop. Here are the photos...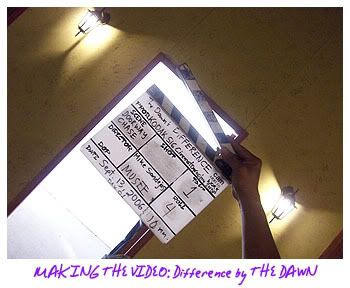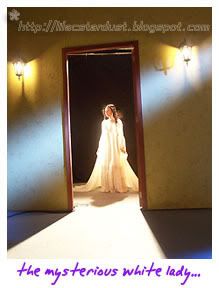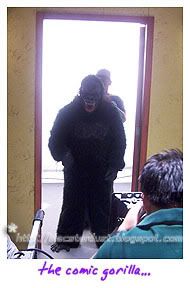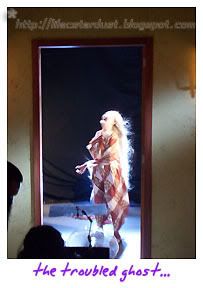 straight from the storyboards...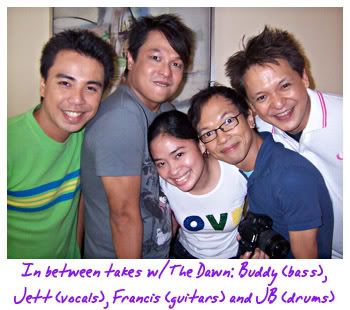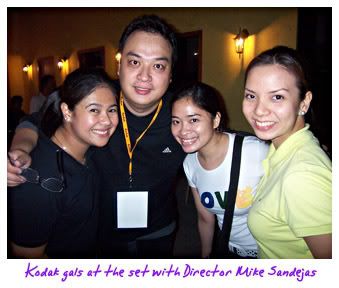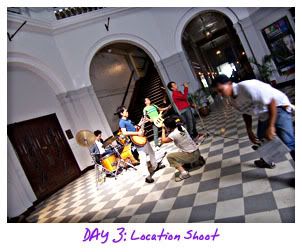 from the storyboard to motion picture film...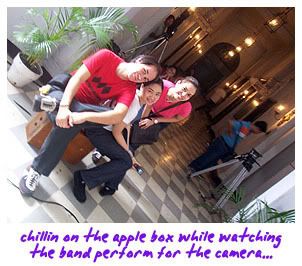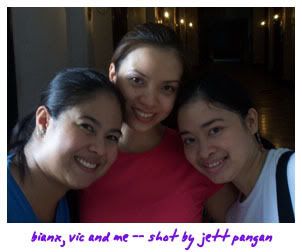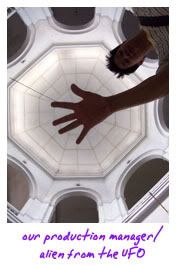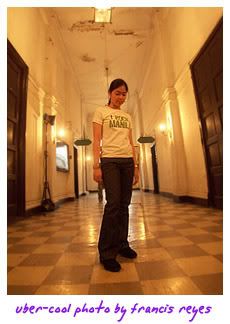 *this photo was also shot by francis reyes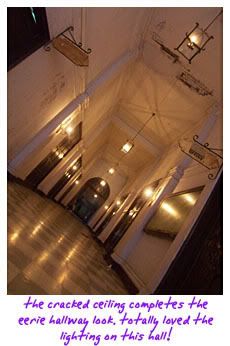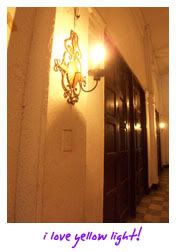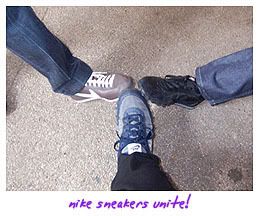 *the brown one is vic's, the black one is mine and the blue one is bianx's
Day 4
was
Post-production
. The participants spent the day inside the telecine suite viewing the film scans of the music video shoot. Since it was the last day of the workshop, we had our graduation dinner at
People's Palace
(Greenbelt) which serves really delicious Thai dishes. And of course, a foreign guest can't leave the Philippines without a mini-jeepney! We gifted Joe with Filipino souvenirs from
Balikbayan Handicrafts
.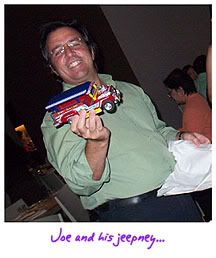 On the 16th of Sept., we spent our entire Saturday at
UP Diliman
. Since Joe was in town, we also scheduled a
"Stop By, Shoot Film"
for the UP film students. The film majors were given the opportunity to have hands-on shooting experience using the Bolex camera and 16mm Kodak motion picture films under the guidance of Joe. It was another sweaty day under the sun with occasional winds blowing amidst the Lagoon trees. By the time we finished around 6pm, it was already raining cats and dogs. Such an erratic flu-inducing Manila weather.
After those extremely tiring days of work, I went on a well-deserved vacation leave last Monday to have some relaxing shiatsu massage from
Laxare Nail & Day Spa
at Alabang.
*the sweaty outdoor look :p