Without any decent rest yet (I flew back to Manila fr. Cebu on Sunday late afternoon), I hied off to 19East with Tin last Tuesday Nov 22 (yeah. Yael of SpongeCola's bday) to catch the super-sulit gig featuring Stonefree (at last, at last, at last!), Dicta License, Barbie Almalbis among others.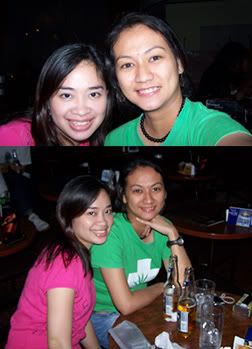 tin and i - gig buddies on the prowl for cutie rockers in the house ;-)

Despite my being tired, I was wide awake and excited to witness all the rockin' performances of the Warner Music talents.
Join the Club
opened the gig. They're
aliw
to watch as usual. Their hyper drummer and bassist are my (and Tin's) personal favorites.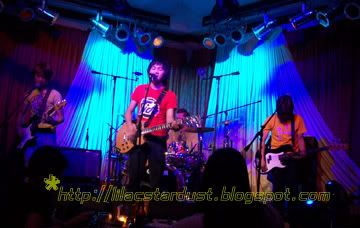 Other artists: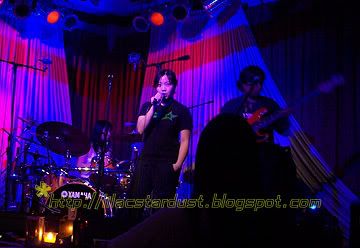 juana. the vocalist reminds me of pucca ;-)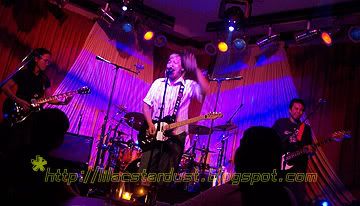 yes, they are old but they still rock.
and YES, that's BUDDY ZABALA (Eraserheads) on bass -- a new addition to The Dawn.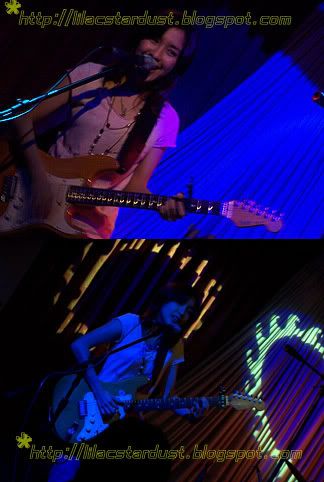 barbie almalbis (again!)
It was my first time to see
Dicta License
perform live. With all this hype I've been hearing about
Pochoy
(vocals)
and
Boogie
(guitars)
being swoon-worthy, I was pretty much anxious to see them onstage. And yes, the rumors are true. Dicta License is a kick-ass band with intelligent, socially-relevant, thought-provoking lyrics. That fact would sink in after you're over being
tulala
with seeing Pochoy and Boogie. They are indeed
pogi
rockers with a cause. And I don't mean to use
"pogi rock"
in a derogatory term. Because yeah, there are good-looking bands out there with nothing but their hot looks to market themselves with. But then, there are bands out there with hottie band members who are kick-ass performers and brilliant songwriters aside from being eye-candies. And that, my man, is
Dicta License
.
Their music reminds me of
Rage Against the Machine
. The energy of Pochoy's angsty singing/rapping and the entire band's loud rockin' music makes them one of my must-see-live pinoy bands. Tin and I can't wait to watch a Dicta gig again... Their set was way too short. [
More!!! More!!!
]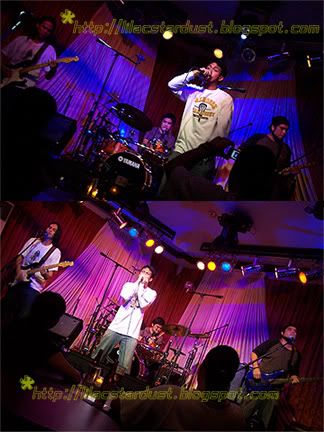 dicta license. not just a mere pogi rock band.
And (lastly) came my most-awaited performers:
Stonefree
! At last, at last, at last! I finally saw a Stonefree gig! I have been so
sabik
to watch their gig eversince I first saw them perform live at
Fete de la Musique
last June. And so finally, I managed to catch them on one of their rare South gigs.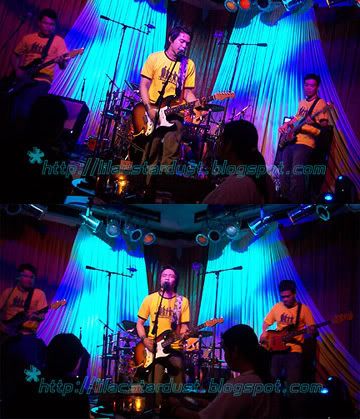 ahh. bliss. stonefree is such a treat to see & hear live :)
They sang
Kapag Nawala Ka, Ikot, Sayang
and
Listen
. It was heaven to hear my most favorite part of
Kapag Nawala Ka
: that dramatic pause with Miro breathing. Captivating as always. I soooo love that song!!! After the show, since
Miro
(vocals)
was passing right in front of our table, Tin and I called him and praised him and his band for such a kick-ass performance. And of course, Miro's deep growly rocker voice is
just. so. amazing.
Astig
. Ever. And
Stonefree
's music -- the melody, the lyrics and the performance itself is one of the best, in my opinion.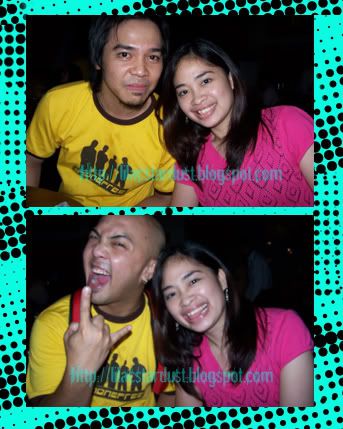 paging santa... *ehem* i sooo want a stonefree shirt...
kaya lang miro said wala na daw ata nun. huhuhu :(
After chatting with Miro, I was surprised when
Relly
(drums)
came up to our table and greeted me by my name. I was like
"Wow, you know my name?"
Haha. I just realized that
Soki
(their manager)
probably made
kwento
to him about me being Fay's friend -- a fan who sent her copy of
Hibiscus
all the way to Antipolo for them to sign. As in
buti pa yung album ko, na-meet sila in person, ako mismo, hindi
:P Earlier that evening
kasi,
I bumped into Soki in the ladies' room. I recognized her from the Stonefreaks' egroups pictures so I introduced myself to her. So there. She probably told Relly about me. Relly was nice and chummy to talk to :)
I wanna watch a Stonefree gig again!!! Bitin ako sa set nila. Twas so short :(
I think I got home around 2AM. Winner. Zombie at work the next day :P