Another obscure fact about me is that I've never eaten in the so-called "Dampa" places (I think the original one is in uhh, Parañaque?) wherein you literally shop around for your own seafood desire in a wet market and then have a restaurant cook them according to your fancy. My friends Abbie, Charo and Jako found out about this weeks ago, as we dined at Pancake House after watching the Aga-Maricel-Angelika movie "A Love Story". They hatched a plan to take me in one of those places (there's also a version in Macapagal Ave. and in Ortigas) so I can finally have that so-called Dampa experience. They have been teasing me about the wet market thing coz I am known to be very squeamish :p


tinimbang ka, ngunit kulang!
(pero may smart buddy pa rin! uy, abbie's happy!)
Finally, we pushed through with dinner at
Dampa Macapagal
Ave.
last Saturday. Charo, Jako and I arrived there ahead of Abbie so we were the ones who shopped for seafood at the wet market. I think I gulped the first time I saw the wet market scene. Now don't get me wrong, when I was a kid, I actually accompanied my mom in the town
palengke/talipapa
which was literally sitting on muddy grounds... by the time we got home, I always had mud all over my feet and some more splattered on my legs. So actually, I knew how it was inside a typical wet market. The one in Macapagal had concrete floors, still unavoidably wet but at least no mud splattering around :-) Of course there was that distinct fishy smell but it's no big deal. The gulp was just because I haven't been inside a wet market for such a long time so I was quite overwhelmed. I told Charo
"Sige, carry ko toh!"
:-) And then I just realized an important thought:
"So who among us knew how to choose the best seafood, judge its freshness and make the so-called 'tawad' sa tindera?"
Don't look at me! I only came here to eat, haha! Charo also didn't know how to shop for seafood so good ol' Jako chose & haggled for us :-)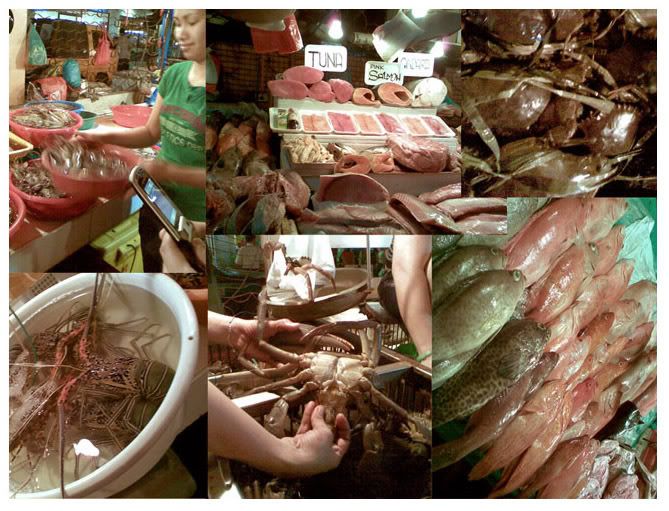 uber-fresh seafood galore!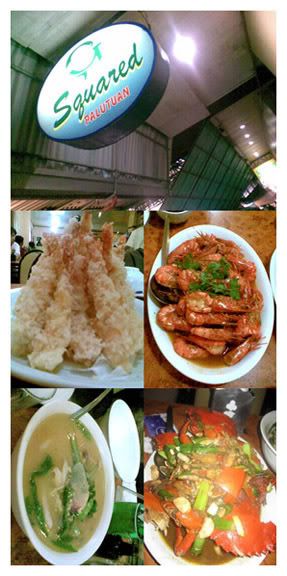 After purchasing loads of shrimps, maya-maya and
bading
crabs, we proceeded to
G-Squared
to have them cooked. Abbie arrived at G-Squared just in time for the sumptuous feast of tempura, shrimp in garlic butter sauce, sinigang sa miso na maya-maya and crabs in oyster sauce w/ onion leeks.
After downing all that yummy seafood, I think I got a bit dizzy with all that MSG. When I asked them if they thought what we ate had MSG, Charo said Jako was a bit dizzy too!:p When I told my mom about it, she said it was probably the MSG and the fat
(alige?)
of the crab that made us so.
By the way, the entire Dampa experience was Abbie's oh-so-late birthday treat to us. Thanks Abs! :-)
After dinner, Charo and Abbie were lured by the inexpensive DVDs nearby. After DVD-shopping, we struck a pose amidst the wet market :-)
On the way home, we hung out and had coffee at
Seattle's Best
Caltex at SLEX :-) Talked about memorable episodes of
Friends
and spoilers of
Grey's Anatomy
while Jako perused the gadget magazines inside the cafe
(hindi maka-relate sa 'min eh! hehe!).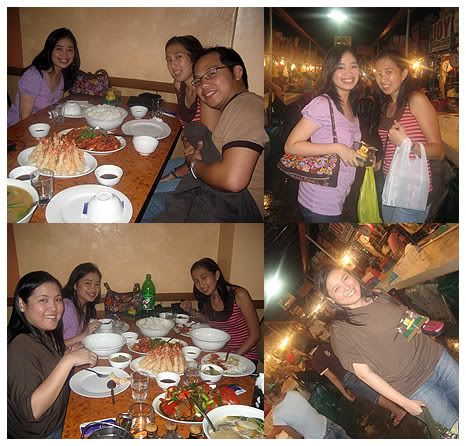 dinner shots inside G-Squared and wet market "glamour" shots

:p
way too happy to finally experience eating @ dampa...
... or maybe it was the MSG high :p