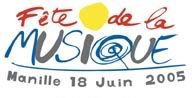 Fete de la Musique yesterday was a blast! #1 Thank God it did not rain like last year's fete and #2 thank God there was no coup d'etat or people power that broke out amidst the political turmoil our country is having now.

I was at the Rock Stage @ Racks parking at 9pm and watched Sandwich. I was right beside the left speakers at first but I realized it was a big mistake to position myself there because the guys were slammin' all over the place. I decided to watch from a distance instead. Wasn't able to catch Kjwan and Sugarfree though because I had to move to the Alternative Stage @ Podium driveway . The Alternative Stage was such a relief from the wild sweaty punk frenzy of the Rock Stage coz there were less rowdy guys at the Alternative Stage (there were still occasional bottle-throwing and slamming).

I was surprised to see Franco Mabanta as one of the hosts in the Alternative stage. He, hmmm, didn't seem to fit in there though. Example:

The 3 hosts (Franco, another guy and a gal) were doing some adlibs while the next band was setting up...

Guy host: I'm sure all the girls came here because of Champ and Yael!
*gals scream in agreement*
Franco: *lost look* Who's that?

DUH.


I was somewhere in front when Hale performed. Total female pandemonium! It looked like every girl out there wanted to marry Champ (or something like that). Good thing I wasn't wearing my sequined t-shirt or else all the sequins would have fallen off from all that friction... pushing, slamming... Bummer though coz they only sang two songs: Broken Sonnet and The Day You Said Goodnight.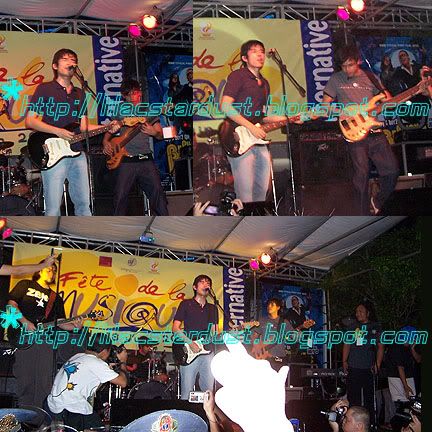 A lot of people followed Hale at the Artists' Area backstage. Twas overwhelming how everyone wanted to get a piece of Hale, most especially Champ. I didn't bother to squeeze into the crowd for a pic coz grabe, total pandemonium, I tell ya. It's good though how Champ still smiled and smiled and smiled for everyone who called his name
(despite of him looking really dead tired)
.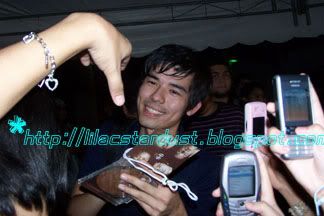 the champ phenomenon
Saw
Barbie's Cradle
perform. Twas cute how Barbie Almabis broke into that
Annie
song
(the sun comes out tomorrow...)
with her pixie voice and all.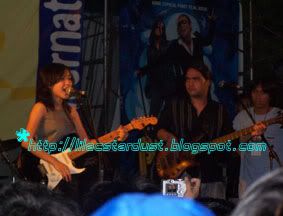 While I was standing at the corner of UCC Cafe, I was surprised to see
Sheldon
(Hale) passing by right in front of me. It was crowded so it took quite some time for him to completely pass by. So anyway, I was just staring at him and he must have seen me staring at him with this dumbfounded
hey-i-know-you
kind of stare. So he gave me this
umm-gee-i-think-she-recognizes-me
look and was almost gonna break into a smile but I guess since I remained too shocked to smile or say hi at him, all I saw was a faint smile. Hmm, he is actually sorta cute up close. Hmm.
Then I watched
Stonefree
. I liked these guys eversince their
"Listen"
in
Single
(channel 5 tv show) OST days. They sang
Listen
, their new single
Sayang
and
Kapag Nawala Ka
. I like Miro's voice. I sooo like that breathing part/dramatic pause in
Kapag Nawala Ka
. Galeng. Grabe.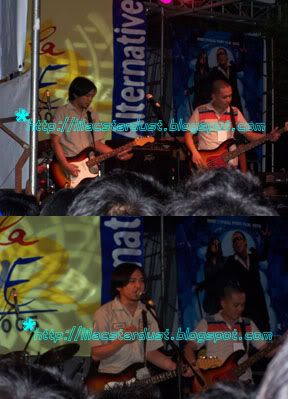 In one of my trips from the rest room
(Podium kept their mall open. Goodie! Clean restrooms!:) )
, as I was on my way out of the mall, I bumped into
Champ and Roll
(Hale) who were going inside the mall. So I went back in along with some gals who tailed them for a quick photo-op. Champ looked really, really tired but cute just the same:) and accommodating, nevertheless. He even gave me this grateful gesture
(hands in "amen" position, then slightly bowing head down and smiling)
after having our picture taken so I mimicked his gesture to say thanks too. He was probably too exhausted to speak.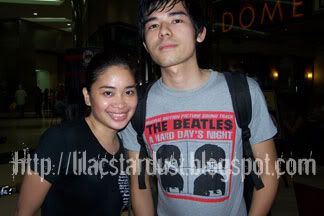 Sponge Cola
was pushed to a much later slot and they finally performed around 2:50AM as the second to the last band. Seemed like the people there were only waiting for them coz after their gig, only a handful were left watching the last band. They sang
Lunes
(I finally heard the famous tongue-clicking thingie of Yael for that bossa-nova beat)
,
Neon
(
*triple sigh* I sooo love that song)
and
KLSP.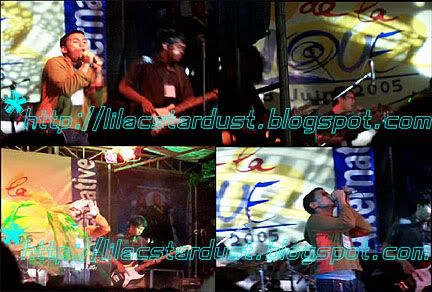 I thought I wouldn't be hit, pero, geez, at the last minute, a mineral water bottle bounced on my shoulder. Hayyy. Aaanyway...
After they performed, I went to the Artists' Area. There was not much people since it was verrrry late already
(it was past 3AM).
After their video interview with I-dunno-who, and a coupla autograph signings and photo ops, I asked Rayfab, Sponge Cola's manager
(I recognized him from the pictures)
if it was ok for him to take my picture. He asked pa nga if I wanted na with "the band" but seeing that Chris, Gosh and Armo were nowhere in sight, I said na with Yael na lang was ok with me. And, hello, I did not want to be too demanding as to require him to round up the entire band for me. I had to explain to him that I was not with anyone so there was nobody to take my pic. I was happy to entrust my digicam to him and he gladly obliged.
(Thanks Rayfab!:))
Yael thought all the picture-taking was over but Rayfab motioned to him that I wanted to have a pic with him. So there. Yael paused for a much-needed tissue-wiping of his face muna and then strategically posed with his usual good angle.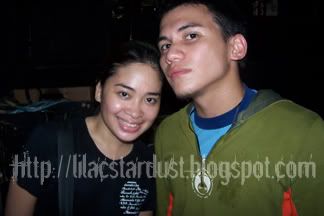 haha. yael just HAD TO pose with his good angle as always. marunong na bata. he knows his good angle.
Got home around 4:30AM.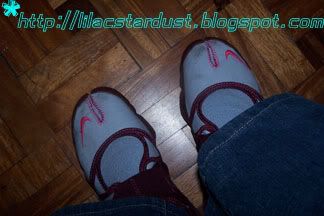 my tired, tired dirty fete feet :(

That was fun. I'll definitely go again next year!;)