First of all, I just went to my derma last night and had my face chemically-peeled and my zits pricked. So I was pretty much red and spotty despite the foundation and concealer galore. Nevertheless, I can always photoshop my spots away so I determinedly pushed through with my plans of going to Hale's Tower promo. 'Got off work at exactly 5pm today to rush to Tower Records, Glorietta for Hale's album signing @ 6pm. 'Turned out they started early coz they were already playing to a packed Tower Rec audience when I got there at 5:30pm. Geez. And I thought I was early!

The crowd typically consisted of high school and college kids (some still wearing their uniforms). Only a handful of us were yuppies so we pretty much stuck out like a sore thumb there. *LOL*

And so this warms up my series of predictably groupie-perspective posts. (My kick-off was the Fete de la Musique post). Those who know me will attest to my cam-craziness when it comes to my fave music artists. I love music. I breathe music. I live for the gigs. I adore the band. And I will most probably be inseperable with my beloved crew of assorted digicams for the next coupla months ('depends on the venue... If I know I won't have good seats, I bring my super kaduper 30X zoom 4MP camera. If it's an intimate setting like the Tower Records thing this afternoon, I just bring my tiny 3X zoom 2MP cam.)

So anyway, when I got there, they went into singing The Day You Said Goodnight and then Kahit Pa.

*sorry, roll was on the other side of the post so I wasn't able to take pics of hi
m
Then came the most-awaited album signing. I managed to strategically-position myself earlier when I arrived so I was probably among the first 25 persons in the two lines that stretched up to Tower's stairs to the second floor. So
Sheldon
(bass)
was the first to sign my album. I objected with an
"Eeeek! Why'dja do that?!"
when he signed my poster. He innocently smiled as if it was a naughty/weird "prank" he pulled on fans
(I noticed he did the same thing to some other posters).
My
first impression
of him
(note my qualifying description as this is just the first time that I came up to him)
is that he's a bit, hmm, eccentric and he seems to be an introvert. Also, he seems to be in a bit of a trance when he plays his bass guitar. Haha. Operative word: "seems". I dunno... let's see if he's still like that in the next coupla gigs I will be going to ;)
I asked for a photo-op with Sheldon. Coz hmm, I find him interesting and cute in a strange kind of way. I'm kinda drawn to him coz he's such an enigma. After that, I turned to
Roll
(guitars)
for his signature. He looked visibly tired and sleepy. Never uttered a word. Hmm. I wanted to compliment him on his songwriting but I totally forgot about it then. Unfortunately,
Omnie
(drums)
had stepped out for a while when I was there at the signing table so I didn't get any signatures from him. And finally,
*drum roll*
there was Champ.
Champ
(vocals)
was very affable. And
*sigh*
so squeaky-clean
ishly
cute. Angelic-looking even. Hehe. At that point when I was with Champ, the band manager was doing his "order-in-the-court!" kind of semi-shouting at the people who were still milling about at the exit area, taking endless pictures of Champ/Arthur/Champy/Champoy.
(the champ phenomenon talaga!)
He was even telling Champ to go faster with the signing/posing/small talk, so after Champ signed my poster and album, I hesitantly asked him
"Eeeek... Ummm, pwede pa ba? [to take picture]"
. He smiled and tugged me close to him and said that yeah it was so okay to have a photo-op
(despite their band manager going semi-ballistic *LOL*).
He kiddingly whispered to me
"Pasensya na ha, medyo masungit yung manager namin ngayon eh."
And then I asked him if he was feeling well na
(coz he had been pretty much sick the past few days with the Fete and all their gazillion gigs)
and he said he was OK na. I told him I saw them at Fete and he asked what was my name again. Hehe. As if he will remember that after a gazillion faces and names breezed by him. Oh well. Anyway, he was really really so sooo nice to everyone. And what's even cute is that his doting father was also there beside him. The first time I saw the old man, I already guessed he was Champ's dad coz I saw their resemblance. Such a cool dad
(think: TitoDaddy - dad of Reubs of Akafellas)
. Champ's dad was even helping the girls take his son's pictures with their cellphones. He even called Champ's attention a coupla times to request Champ to smile for the plethora of cellphones and digicams aimed at him.
Roll, Champ and Sheldon's signatures. Look at what Sheldon did to my poster. Hayyy.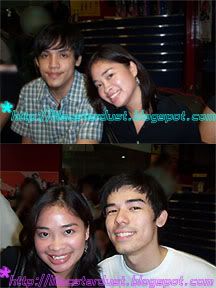 with sheldon (top) and champ (bottom)

father and son!
champ wears levi's...