I was so busy with work the other week coz we had our Telecine Workshop wherein colorists from the Philippines along with those from Hong Kong, Taiwan and Indonesia attended a 3-day seminar/workshop organized by us. [Colorists are those techie/creative guys in post-production houses who do color corrections, put specific hues and can even turn a scene shot in broad daylight into a believable night scene.]


DAY 1 - Oct. 13 (THURS)

The first day was a seminar conducted at Dusit Hotel Nikko.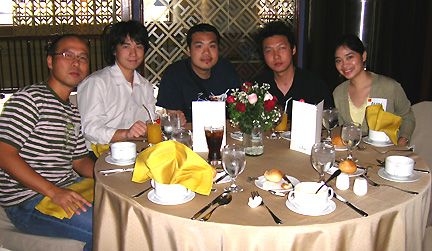 that's me having lunch with the guys from Hong Kong.
It's interesting how these guys (along with those fr. Taiwan) have English names that are totally different from their Chinese names. It took me quite awhile to associate their English names with them since i was more familiar with their Chinese names during the registration/preparation process.

time for the traditional class picture!

The second & third days were conducted in a Makati post-production house for hands-on training.
At the end of the day, I accompanied the two Indonesians to shop at the Filipiniana department in SM. One of them wanted to purchase a traditional Filipino costume for his girlfriend. It so happened that I had the same frame as his girlfriend so I ended up "modelling" the piña jusi maria claras there. After shopping, we ate at Banana Leaf Asian Cafe.


while the class was busy inside the telecine suite...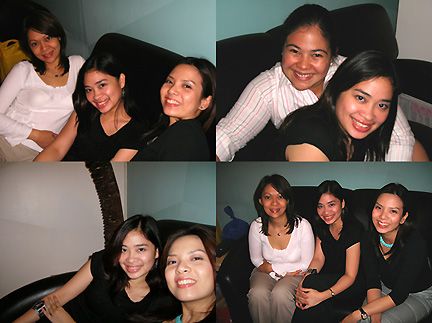 ... we were right outside doing lotsa picture-taking to kill our boredom ;-)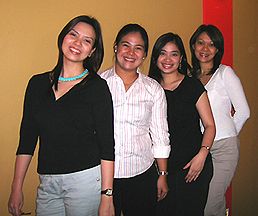 the entertainment imaging team: girl power!
I had a
funny fashion emergency
come Saturday... So I was at the PAL office early 9am to accompany one of the Taiwanese participants in having his flight booking changed. I was talking to my boss on my celfone and as I glanced at my feet donned with one of my fave strappy slip-ons I suddenly blurted
:"Oh no! I have a fashion emergency!"
and proceeded telling my boss my unfortunate footwear disaster. Ya see, I haven't used those slip-ons for maybe like a year already and it was just stored in its shoe box inside my shoe cabinet. That was probably why it got crumbly. Lo and behold, the soles were cracked and the heels were slowly disintergating! Good grief! I had to walk gently by lifting up my feet like a soldier marching and I was careful not to drag my heels on the pavement. Good thing that
Greenbelt
was just nearby so by around 11am, my boss and I hit the mall.
Now the thing is that I did not like any shoes from the tiangge-type/great bargain stores at the old Greenbelt building. Thus, we proceeded to the posh, chi-chi stores in Greenbelt 2. My choices were between a kitten heel strappy black sandals from
M)phosis
priced at P1,500 and a cute ruffles-inspired sandals from
T Studio
at P1,695. I thought I might as well buy the one from T Studio coz the simple shoe design of the M)phosis shoes was not worth my unplanned-more-than-1K credit card swipe. It was such a nice kikay pair of shoes but dammit, I don't really buy shoes priced at that range. I think the reasonable price for sandals is just P800-P1,000+ .
I think it's impractical to buy such outrageously expensive shoes but what the heck...
if I dared to travel by foot thru the walkway to Glorietta to shop somewhere less expensive like maybe
Celine, Mendrez, Rusty Lopez or Le Donne
(where I usually buy my sandals/slip-ons)
my precious frail aqua slip-ons would have totally crumbled! Oh well.
oh the poor thing just gave up on me! haha!

pretty (damn expensive) shoes!

They had their graduation and certificate-awarding in the afternoon...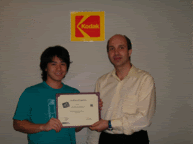 these are the colorists with the UK-based colorist/instructor.
Spot the F4-ish HK cutie in blue green... he's my fave participant ;-) he's so adorably cute! ;-)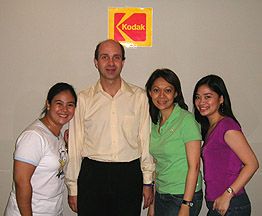 We then proceeded to
Masas
at Greebelt for their farewell dinner. I just realized there that one should know how to describe every Filipino dish to the foreigners. It was quite a challenge to describe
Rellenong Bangus, Adobo, sansrival and leche flan
to them. Funny how the Indonesian joked that the crunchy
crablets
should be called
"pedophilia"
:P
all of us shared one long table at the mezzanine of Masas.
We had sinigang na bulalo, pork adobo, crablets, crispy shrimps, bicol express, rellenong bangus, adobong kangkong among other things. they found the leche flan too sweet and most of them liked the sans rival over the leche flan.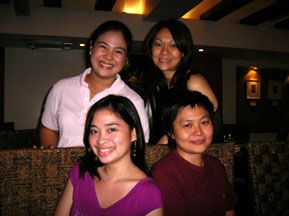 we taught the taiwanese how one should know one's best angle
when posing for the camera ;-)
Only in the Philippines: a b-day candle on a leche flan!
it was HM's b-day the next day so we arranged for a little b-day treat.
[HM is from the Kodak Hong Kong office]
We gifted Kevin Shaw (UK-based colorist/workshop instructor) with
a decorative miniature jeepney from Balikbayan Handicrafts

After dinner, I accompanied two of the Hong Kong guys at SM for a last-minute buying frenzy of dried mangoes,etc. They bought all the different brands on sale and I kidded them that they were like some sort of product testers for dried mangoes! They also got different variations of pili nuts.
Anyway, I therefore conclude that the dried mangoes are really best-sellers with our foreign guests. Aside from the Hong Kong guys, the Indonesians also brought home some dried mangoes.
All in all, I really liked the experience of organizing the workshop for the Asian colorists. It's so interesting to interact with them despite the slight barrier in language
(even though they can speak English, their pronunciation is still different -- eg. Over dinner, I thought the Indonesian was asking how many calories were the food I was eating... It turned out that he was asking me how many colorists there were in the Phils.! hehe!).
And in some strange way, I was happy and willing to entertain/take care of them during their short stay... 'must be the trademark Filipino hospitality manifesting in me! ;-)