Attended the 30th Metro Manila Film Festival awards night yesterday, Dec 29th at Aliw Theater, CCP Complex. As usual, we sponsored the Best Cinematography award (which was bagged by Ely Cruz for the movie Panaghoy sa Suba). The invite said 6pm so we went there around 6:45pm assuming that the show would start at 7pm. But gaaaahd, it started 8pm... so there we were--in our flimsy formal dresses, freezing our butts off in the north pole-ish room temperature in Aliw Theater. Dammit, we forgot to bring our flannel blankets!

Star-gazing as usual. We were seated where the Panaghoy sa Suba people were that's why I saw Cesar Montano and Sunshine Cruz up close. Sunshine and her magnificently fluffy Carrie Bradshaw-ish frou-frou skirt had to pass in front of us so Cesar was saying gracious apologies to us as they passed. I swear, if the other dude wasn't holding down and "restraining" the wildly fluffy skirt of Sunshine, we would have found our faces buried in ruffles!

G Toengi was in a classic/old Hollywood-inspired white gown with matching fur. I pity the animal that was killed for that fur though. The glassy eyes of the poor furred creature was staring at me sadly from a distance as she passed by. I suppose G Toengi's outfit was the counterpart of Bjork's infamous swan outfit from the Oscars (?).

If I had to add somebody in my list of annoying people, it would have to be the Jaboom Twins. Good gaaaahd. Why did they have to be the hosts of the red carpet thing?! Sorry but I just do not see an ounce of class from those annoying shampoo twins. Their bloopers: in saying "www" = dobolyu-dobolyu-dobolyu... and "eight filmS entries". Gaaaaahd. Appalling.

Anyway, enough of my biatching, here are the pix: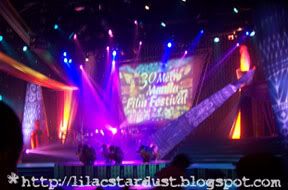 the spectacular lights of the stage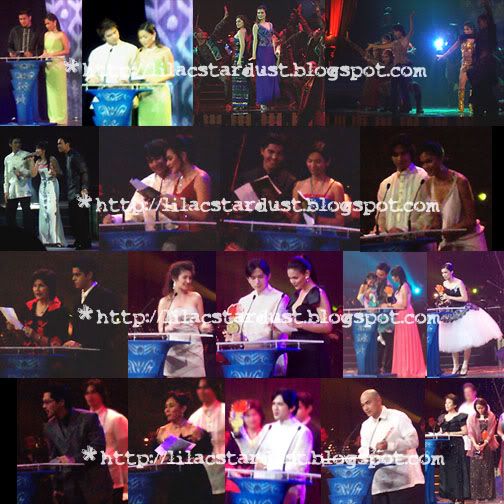 the hosts:

Judy Ann Santos, Jomari Yllana and Marvin Agustin;

the performers:

Jessa Zaragoza and Sunshine Cruz, G Toengi and others; Christian Bautista, Sarah Geronimo and Mark Bautista;

the presenters:

Rainier and Yasmin(sp?), Mark and Jennalyn (sp?), Paolo Paraiso and Juliana Palermo, Boots Anson-Roa and Richard Gutierrez

(such an ODD combination! so awkward!),

Rica Peralejo, Dennis Trillo and Iza Calzado;

the winners:

Best Child Performer Ella Guevarra (Sigaw) flanked by presenters Mark Bautista and Sarah Geronimo, Sunshine Cruz accepting the award on behalf of Rebecca Lusterio (Panaghoy sa Suba) for Best Supporting Actress, Best Actor Christopher de Leon (Mano Po 3), Best Actress Vilma Santos (Mano Po 3), Best Supporting Actor Dennis Trillo (Aishite Imasu), Best Director Cesar Montano (Panaghoy Sa Suba) and Mother Lily for Best Picture Mano Po 3.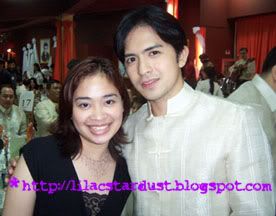 I congratulated

Dennis Trillo

as I passed by his table during dinner and asked for a souvenir shot. Fine, fine... let's call this my jologs picture of the night! :P Ah basta, he's such a cutie! :P I didn't care to have a pic with Vilma Santos and Christopher de Leon even if they were right smack in front of me. I'm contented na with my Dennis Trillo pic ;)