Went out with Abbie and Tin (welcome baaaaack!) (she came back here after working for almost 2 (?) years in Beijing, China). Charo was supposed to be with us but she couldn't get out of the party where she was in :( (we missed u gurl! we got tipsy na and all, hindi ka pa rin nakahabol. huhuhu...)

Anyway, so the 3 of us had dinner at CPK in ATC. We just ordered the Asian Chicken salad (my fave in CPK!) and spaghettini. Felt too bloated afterwards that we didn't get to finish our food. We had to have half the plate of the salad wrapped for take-home. We proceeded to Westgate where Abbie bought three (?) dozens of GoNuts Donuts for her mom. We then hung out in this new place called Lanai Red and we ordered a bottle of red wine. Yeah, we three ladies finished one bottle ;) We sat outside (chilly December air!) and talked, talked, talked... analyzed and over-analyzed things ;) Typical of us! Oh and of course, we have pictures! :P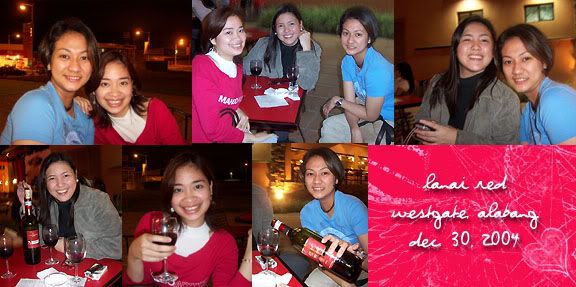 shots from my digicam...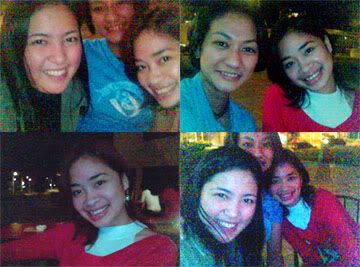 shots from abbie's fone... my solo shot was from tin's fone. whatdahell, who are we kidding here... they both have exactly the same model of sony ericsson fone!:P
'Had a wonderful night, girls! I loved our crazy/serious/closet-bastos conversations! *mwah*hugz* I luv u gals! :) Thanks for putting up with my drama queen act!:P