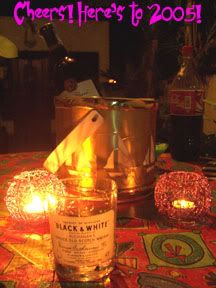 Spur of the moment thing--Abbie invited Tin, Charo and I to come over her house in Cabuyao after the 12mn hullabaloo. Charo was partying in Baywalk with her family daw so it was just the three of us again. (Charo tanggal ka na sa TROPA! bwahahahaha! kiddin' kiddin'!!!). So anyway, the 3 of us were YM-confy'ing coz SMS sucked during New Year's eve. We were requested by Abbie to wear read daw. Why red? It's NOT Valentine's Day naman ah? Para daw festive! Festive my pw#t. *LOL* I asked her if my red bra will do :P. Anyway, the only thing red in my closet was my Bob Marley racerback top. It was too freakin' cold to wear just that so I layered with a midriff shirt. And wore matching red shoes! Killjoy Tin came in a black baby tee. Fine, it had red prints on it. Sige na nga.

Tin and I left Pacita around 1:30am. Looked for a gas station that was open at that time of the day. Managed to find one somewhere in Binan (or was that Carmona? anywaaay...) Bought red wine from 7-11. (Ganyan kasi kalabo si Abbie, magyayaya na mag-red wine, kala mo meron na sya dun, pero noooooo... we were tasked to buy the red wine on our way there! hay, para sa dyosa, sige na nga! hehehe.) Abbie saved some of her niece's sparklers for us to light and pose pictures with...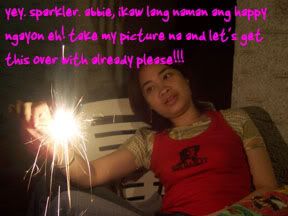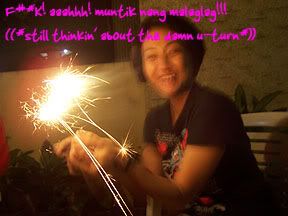 We talked and talked and analyzed what we have already talked about and analyzed just the other night at Westgate when we were in Alabang. Ahhh. We gals just can't avoid over-analyzing stuff... it's an innate disease! haha. Around 5:30am, my mom was already texting me and asking what time I was planning to go home. So there, Tin and I finally headed home around that time. I slept around 6ish am and woke up at 12:30 in the afternoon. Ahhh, the holidays roooock.