Went out with my best buds from high school-- Abbie, Tin and Charu -- last night. Since I'm on vacation leave today, it was alright to have come home at around 3am this morning. Tin and I met up with Abbie and Charu at ATC and then together, we proceeded to 19 EAST at Sucat (the former Galo's grill back then). We got there around 10:30PM in time to watch True Faith and Barbie's Cradle perform.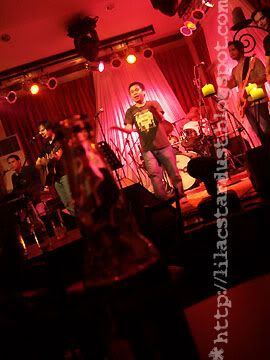 strong ice, true faith
True Faith
was good. It was my first time to see them perform live. I liked the songs they played-- 80's new wave genre and 90's rock
(most definitely OUR type of music back in high school!)
. Can't quite fathom though the weird dance steps of Medwin (vocalist).
barbie's cradle (new guy on electric guitar?)
The next performer was
Barbie's Cradle
(the MAIN reason why we went all the way to Sucat).
This was only the second time I saw them live. The first time was back in 2003 at Enchanted Kingdom
(Charu, Mitzi: remember that? such fun!)
. Back then, I was totally smitten by the angelic presence of pixie-like
Barbie Almabis
. Last night, I was still mesmerized by her.
Gaaahd, my lesbian tendencies are showing! *LOL* Kidding, kidding!!!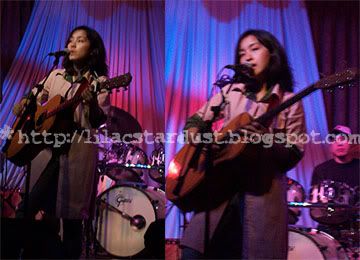 there's something about barbie...
There's really something about her radiating warm aura that reminds me of dainty pretty little fairies. And her dreamy voice
(imagine Lisa Loeb's but cuter)
just lulls you to a sheer peaceful state. Basta, it's such an nice experience watching Barbie's Cradle perform live. I sooo like this band forever! I liked her style of singing even way back her
Hungry Young Poets
days. Funny though how I don't even own any of their albums...
Loved it when she sang
Firewoman
(my ULTIMATE fave - she was still in Hungry Young Poets back then).
They had about 3 encores since the crowd just couldn't get enough of their music. She gladly obliged. Unforgettable was their great version of
Unchained Melody
. As in SUPER.
Of course, if we
Forces gals
are out, it's a sin not to snap any pictures. I brought my digicam and Tin also brought hers. Ergo, cam-whoring to the second power...