Gemini premiered on the radio stations last July 14 morning... by evening, it was a hot new entry at #6 in 99.5 RT's 10 Biggies daily countdown. By July 26, it debuted at #1 at RT's Top 40 weekend countdown. Amazing. It's still no. 1 nowadays over at RT...

I guess by now most people know what the song is talking about. *ehem* I like the lyrics and the melody... one feels the intense passion that the song speaks of...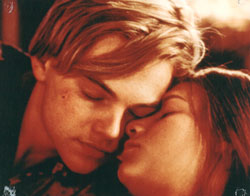 GEMINI
words by yael yuzon
Come a little closer
Flicker in flight
We'll have about an inch space
But I'm here I can breathe in
What you breathe out

Let me know if I'm doing this right
Let me know if my grip's too tight
Let me know if I can stay all of my life
Let me know if dreams can come true
Let me know if this one's yours too

Cause I see it
And I feel it
Right here
And I feel you right here.

The vacuous night
Steps aside to give meaning
To Gemini's dreaming
The moon on its back
And the seemingly
Veiled room's lit
By the same star

And I feel it right here
And I feel you right here...



~oO0Oo~

The Gemini video is actually a tie up with the Metropolitan Theater Guild's production of
Romeo and Juliet
(the play will run on Nov. 2005).
Yael's older brother,
Yanny
(formerly with the Mongols; now in a new band called Pupil -- still with Ely Buendia)
who appears in the video as Romeo will also be in the MET play.
Marie Jamora
directed the video. I think Marie's the same one who directed
Imago
's haunting
Akap
vid
(the "spare tire" concept totally blew me away... astig. grabeh.)

To date, the Gemini vid is #6 in the
OPM MYX Countdown
. 'Not sure if it's also in the MTV countdown already...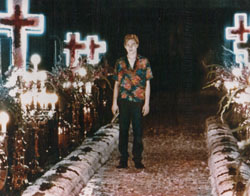 this scene reminds me of the floating crosses onstage in the gemini vid...