It's a holiday today so my highschool friends and I decided to meet up and hang out at ATC yesterday. Charo and I were there by 2:30pm and we watched TAXI (Jimmy Fallon/Queen Latifah) first since Abbie was gonna arrive around 6ish pm pa. Twas a fun movie. I liked Jimmy Fallon eversince I saw him in those uber-funny spoofs he did while hosting MTV (movie?) awards. I can never forget that Enrique Iglesias and Nelly spoof he did plus the Madonna spoof he did with Kirstin Dunst :P

Catch phrase of the day: "Can you do us?" That definitely didn't sound right. Hellooo, Abbie kasi texted us to go to California Advanced Nail & Skincare and ask them if they can do us pa. What, are we supposed to run around at ATC and randomly ask, "Can you do me?"!?!. We meant pedicure, by the way ;)

The three of us had dinner at Fridays and then proceeded to Coffee Bean and Tea Leaf to wait for Jako, Kaloy and Troy. We watched THE INCREDIBLES. Can I just say that Pixar rocks?! I luuuv the hair of Elastagirl -- the highlights and details of her hair was sooo real. The water splashes and the green foliage were very realistic too. My fave is Dash... that kid is sooo adorable *awww*. Ahh pero winner their baby-- asteeeg!:P

After the movie, we went picture-crazy at Corte de las Palmas (?)...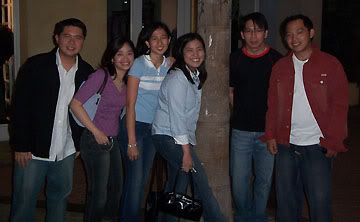 THE GANG: Kaloy, me, Charo, Abbie, Troy and Jako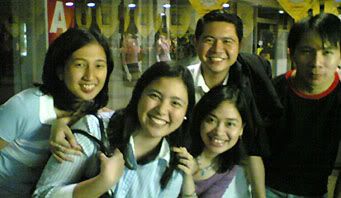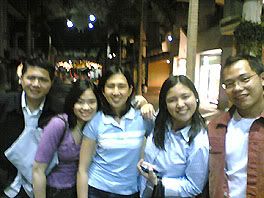 And then we stopped over at KFC Shell at the SLEX and went picture-crazy again...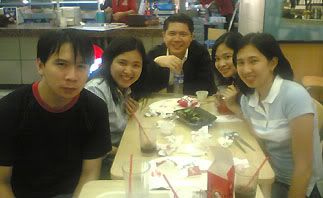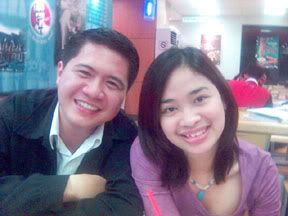 By 2ish am they brought us home and they have gone picture-crazy right at our house's gate...