I luv Monday holidays! This is the second time in November that we had a non-working holiday on a Monday. Such holidays mean that I can still go out on a Sunday night :) Had sooooo much fun yesterday! I haven't had that much fun for a long time now :)

Charo and I watched the 4pm screening of NATIONAL TREASURE at Festival Mall. Oh such a kick-ass movie! Gooooo watch it! Super asteeeeeg! Winner sya, grabeh. After that, we headed to McDo to satisfy my craving for Royal Tru-Strawberry float and Twister fries. Ahhh, yummy! That strawberry float is pure heaven. *sigh*

We waited up for Abbie who decided to follow after we all thought that she couldn't make it anymore coz of her ever-strict parents. So Charo and I went through almost all the pearls and Swarovski stalls at Festival Mall... I was on a quest for the perfect Swarovski chandelier earrings. Hayyy. It's almost as difficult as finding THE ONE! *LOL* I found an almost perfect one which needed an eensie-weensie modification... I asked the muslim if she could change one of the crystals on the earrings to another color but *hmp* she was so unaccommodating. I was annoyed na so I didn't buy from her anymore. Anyway, after the long search through probably almost 50 stalls, I didn't find any chandelier earrings that was good enough for me :( 'Soooo frustrating.

We went to Congo Grille at Westgate to eat dinner. Kaloy and Jako met up with us there. And when The Incredibles get together, we get picture-crazy...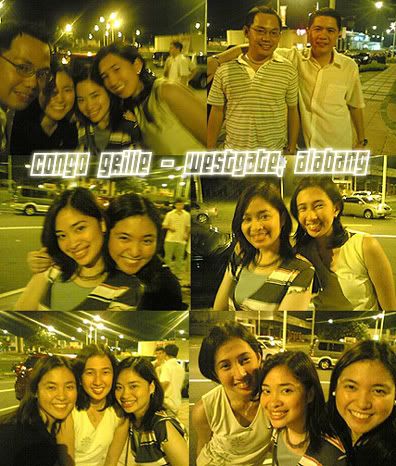 By 12 midnight, we headed to
Binan
at
OTB
. We passed by 7-11 first, to get Vodka and Sprite to make
*whatelse*
Vodka Sprite
! Yebbah.
The great videoke king and queen challenge...
*LOL*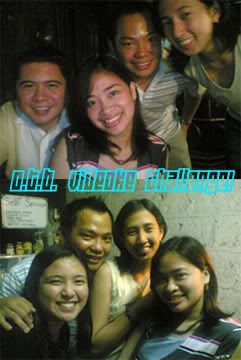 It's been a long time since I last went videoke'ing. Soooo much fun! But it's insanely sadistic/masochistic though how they/I chose uber-sad songs for me to sing. Hmm, lemme see what I can still remember... I sang these last night:
Til My Heartaches End, Dreaming of You, Friend of Mine, 214, I'll Never Get Over You Getting Over Me, Even If, Stay, You Won't See Me Crying, Weak

...
They sang:
True, One Hello, Through the Fire, Back for Good, Goodnight Girl, This Guy's in Love with you Pare, Out of Reach, When I Met You, Maybe
... a Lionel Richie song and some familiar Tagalog songs whose titles I don't know.
Up to now though, I can't freakin figure out why the hell all videoke songs are basically boobs and butt parades. It is so distracting and hilariously sick to sing along to a mushy love song while seeing Rebecca Romjin-Stamos (sp?) or some other chick frolicking at the beach while clad in a skimpy bikini outfit. There's even a footage where this girl clad in a two-piece gyrates in the midst of a cheering African tribe or sumthin. Imagine seeing that while reading the lyrics of I'll Never Get Over You Getting Over Me or some other sappy mush. Verrrry distracting to say the least. *LOL*
Gaaah.
The videoke-making industry is run by sick sick pervs. Hahaha.
Oh well. Got home around 3am. Totally had a blast. Such a happy day.