Was happy last night coz I went out and spent some time with friends whom I haven't seen for such a long time... Awww, I miss this bunch...

Went to St. Scho last night with Teena and Peachy to watch Hogi in JOSEPH AND THE AMAZING TECHNICOLOR DREAMCOAT. I'm not much of a theater person but I welcomed the thought of watching one coz lately I've been bored with all that reggae bar thing that I've been doing. And of course, coz Hogi's there! ;) I haven't ever seen her on stage so it's pretty nice to watch a play with her in it. I loved the lighting effects...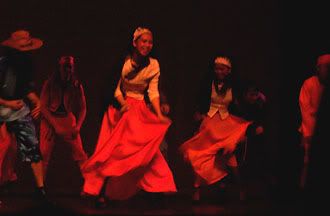 Look at Hogi dance!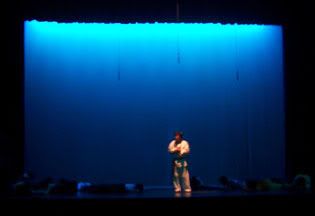 This is my uber-fave picture. I absolutely love the dramatic effect of the blue light.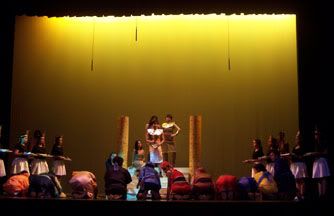 Yellow...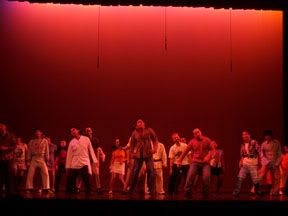 Red...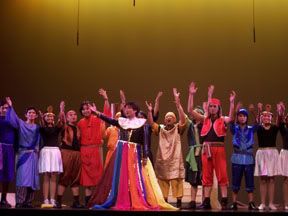 Wehehe. I was kiddin' with Peachy that Joseph's technicolor dreamcoat looked sooo gay :P
After greeting Hogi after the show, we headed to Dish to watch the
'fellas
. Peachy had to go home na. Teena and I met up with
June
at Dish.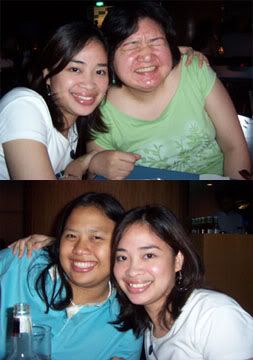 With Teena and June...
IT'S BEEN A LOOONG TIME!
Hayyy.
Yeah, I haven't been to any of the guys' gigs for like 3 months already. I sooo miss their music! I was very happy to see everyone. I sooo missed the hugs and
beso
s!
Pau, Robi
and
Roger
hung out a bit at our table before their set. I greeted
Ikey, Karl, Mike
(and
Ehra
),
Jhett
and
Kyla
after the show. Twas my first time to watch the guys with Jhett who was relatively new in the
*ehem*
voice band. They performed sans
Reubs
who was still in a debut (he was the escort).
Aww, I miss these guys...
Funny how I got a bit tipsy after drinking a cocktail called
Apple Temptation
and only one bottle of
Vodka Ice
. Hellllooo, I usually down San Migs at the reggae bar and I don't get that tipsy! I figure it's coz we were just there sitting down. No sweating involved. Hehehe. I was even telling June that I'm no longer used to taking pictures of the guys on stage. Parang biglang nahiya ako sa M.I.B
.-ishly
blinding camera flash of my digicam.
Weeeeird.
Hurray for me, I heard a new song in their repertoire:
Part-Time Lover
!:) Jhett and Robi sang the lead. Hermm. Wasn't able to capture that precious Kodak moment of Pau and his microphone which sorta fell apart in the midst of their performance:P He was like sorta asking me from the stage if I got it on vid or pic. Dang. Well, he was happy I wasn't able to. Hehehe.

bumper sticker-ish. hermm. 'doesn't sound right. :P

Hitched a ride with Robi after the gig. Twas nice catchin' up with him. I've been so out of the loop that it wasn't until I asked him did I actually find out that it's been 2 weeks since he resigned from Wave!
*toinks self*
The ride was fun coz I got to chat with Jhett too who usually hitched with Robi pala after their gigs. Didn't get to talk to him that much when I first met him at Teena's birthday party. 'Turns out he's fun to chat with. I told him I was disappointed that he did not do his famous Pilita Corales move that night. HAH! Maybe next time.
Hmmm. MUST watch these guys more often. Who knows when...? Hayyy. Sadness naman. :(