Went to ATC this afternoon for SpongeCola's performance in NU107's Pocket Concert. 'Turned out they were playing with Soapdish and Orange & Lemons.

The gig hasn't started yet when I got there around 4pm. The park was crawling with... hmm ... kids. The demographics there was probably 12-17 yrs. old, punk/scary-looking boys and girls. *geez I feel so oooold* I sat under the trees while waiting and then I eyed Chris (drums) coming out of the artists' tent. I wanted to have my album inlay signed so I decided to head for the backstage area.

At the artists' tent, I saw that they were eating Jollibee spaghetti (at least for Gosh, I think). A handful of fans were also there yelling things like "Yael, smile naman" "Yael, picture please". Yael, yael, yael. Hehe. Chris signed the drumsticks of some fan and after that I asked him to sign my CD inlay. Blame it on my OC-ness but hayyy, he umm signed beside Gosh's pic. Labooo, hehe. Oh well. Gosh (bass) was still eating (while standing!) so I didn't want to disturb him. I could hardly see Armo (guitars) who was also eating as he was seated on the side. Since Yael (vocals) was done eating and was just sorta standing there, I asked him to sign my CD inlay. He fussed over my inlay and made a comment about it being usually lighter (or darker? hmm, I don't remember anymore) than mine. I gave him an I-have-no-idea-why half-smile/half-shrug. He started to sign and then stopped to ask my name. It was a bit loud with the blaring NU plug and all so I had to spell it out for him. (Wow, that's great :) He's a thoughtful autograph-signer. More than anything, I really appreciate if the artist cares enough to ask my name and write it down on whatever he's signing for me). Armo signed after him. Blame it on my OC-ness *again*... he arghhh, used the thick-tipped pentel pen he was (already) holding to sign it. Umm I handed nga Yael this fine-tipped marker for the signatures. Ayan tuloy, the signatures don't look the same. Oh well. Haha, maybe next time I should give specific instructions in signing to whoever artist I'm getting a signature from :P OC, OC, OC! hehe ;-)



Signatures from L to R: Armo, Gosh, Yael and Chris
I managed to position myself on the platform of Coffee Bean & Tea Leaf so I had a pretty decent view. My digicam was 30X zoom anyway so I had no problem standing a bit far from the stage. Funny, I saw this (probably) 13yrs old girl and she was with her mom. Her mom stepped about 4 feet away from her, looking visibly irritated and complaining that her ears hurt. Umm, yeah mom, as if the 4ft would make a diff. Haha. Poor mom. She must have heard numbing ringing sounds in her ears after having her eardrums blasted by the loud music from Soapdish.
SpongeCola performed after Soapdish. They sang
Partisan, Lunes, Neon *awww*, Gemini, Jillian, Crazy for You, KLSP
and
Jeepney
. I really love how Yael's voice turns from mellow to scream-o. There were punk guys slamming on the moshpit on the left side of the stage.
(I know... duh dba? Moshing in a MALL venue?! weird!).
Yael had to constantly remind them not to hurt each other and help someone up in case somebody falls on the ground and stuff like that. At some point, it drizzled shortly so I had to friggin' hold an umbrella on one hand and take digital videos on my other hand. I think I did that for the whole of their
Crazy for You
number. Congratulations to me. That was no mean feat.
(My footage turned out to be so shaky it would drive one crazy :P)
Hmm, I thought they said in their mailing list that they didn't want to perform that song anymore. Hmm. Anyway, Yael's kooky actions (think: nursery "action" songs) was fun to watch. I was excited to see them play Jillian coz I wanted to see how Chris performed his song (he wrote it for his gf Jillian *aww*). Twas refreshing to see Chris standing in front with a guitar while Yael was at the back doing the drums. I still prefer the quiet drumless version of Jillian in their album though. Yael's furious poundings on the shrilly cymbals and snare had sorta drowned Chris' voice. I mean, Neon was a bit of a quiet song but Chris managed to do the drums for that without drowning Yael's voice. Chris did softer hits on the drums. Nevertheless, that Jillian number was interesting.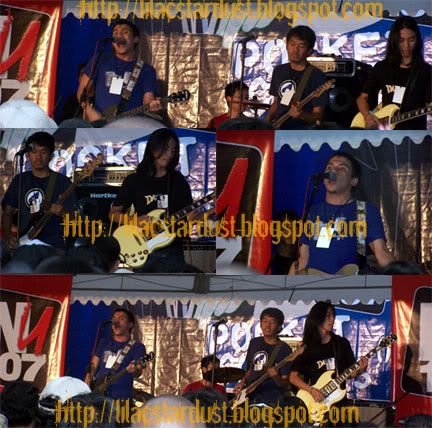 Geez, mas nicer pa ata hair ni Armo than mine eh...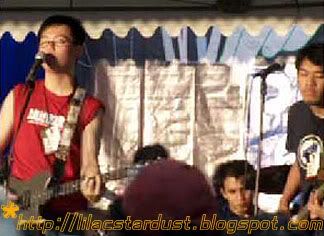 Chris' shining moment *yey* (Jillian performance)