I was utterly excited when I heard the news last week that Greg Behrendt would be going to Manila that I decided to skip the Hale gig @ Hard Rock which I was supposed to go to together with Rose (my college friend). I figured that Hale will have more gigs in the future that I can go to anyway, while Greg coming to Manila is basically just once in a blue moon. I have been sooo loving his book eversince I stumbled upon it at Powerbooks around January of this year. I changed plans with Rose and she agreed to go with me even if she has not yet read Greg's book. Soon after, the news spread among the gals in the office so we all decided to go watch him at Greenbelt.

Last Sept. 15 was Greg's stand-up comedy gig dubbed "Uncool". I swear, he's just sooo funny! If I could put YM smileys here, you would probably see the *ROTFL* smiley. We were laughing the entire 45 min. or so. My favorite is the goldfish story :D He talked about an insane girlfriend (aka the goldfish story), a gal he didn't know at all who broke up with him over the phone, drunk-dialing, playing Pictionary with his wife & friends (pray tell, how do you draw "few"?), his Oprah guesting and a whole lot of other funny subjects.

That night, I was surprised to find out that Rose enjoyed Greg's performance so much that it convinced her enough to buy his book when she passed by Powerbooks.

So the next day, Sept. 16, Rose & I went together for his book signing. They had a short program before the signing. It opened with the clip from Sex and The City with Berger's now-famous line. (Trivia: Greg said he had much input in the characters of Berger and Aidan). The program was hosted by Bianca Gonzales. There was a bit of Q&A after Greg talked about the book. A coupla people from Studio 23 like Judah Paolo, Mariel (that annoying MTV Phils. VJ and host of Big Brother), Franco Mabanta and probably some more press/media people were in the VIP audience area. Myrza Sison of Summit Media was there the other night (the stand-up comedy thing).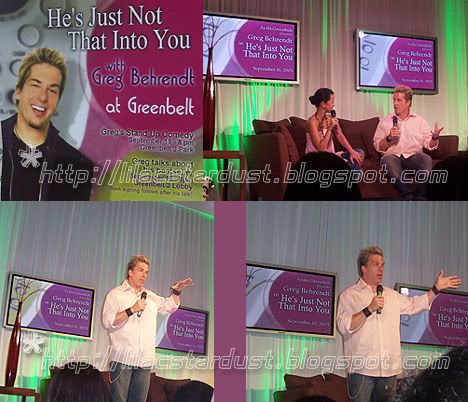 It took us about an hour in line before Rose & I got our books signed. Some of us were a bit peeved at the organizers coz they did not follow the sequence based on our numbered book signing passes. What was most agonizing aside from standing up and falling in line for a long time was that there's this big gal with a really *funky* pungent smell about her. Rose even asked me to inch away because it was really so nauseating! I mean, gee, I am probably lucky to be surrounded most of the time by sweet/fresh-smelling officemates, friends and family members that it was an absolute assault to my senses to smell that girl's body odor! Rose & I were even worried that Greg might faint and not get to sign our books coz the smelly gal was just before us in the line. Haha :P. Anyway, Greg didn't faint coz he probably held his breath so *yey*, we had our books signed :)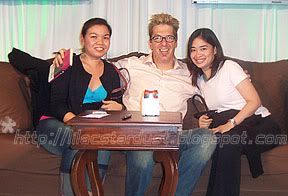 rose & i with greg: my you-go-girl cheerer/hero/inspiration
I didn't want Greg to just sign in the usual front page or book jacket. Instead, I asked him to sign on my favorite chapter in the book. I told him that I could most relate with that chapter and he chuckled and said:
"Oh I get you!".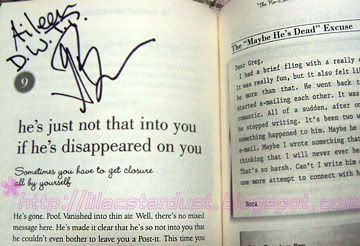 D.W.T.P. - if you read the book, you'd know what that meant ;)