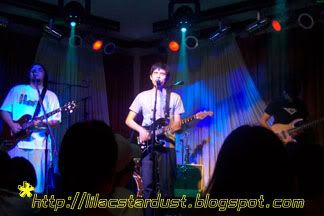 *FINALLY*.
Yesterday was the first real
Hale
gig that I've been to. The first time I watched them was in their
album signing at Tower Records Glorietta
which was not much of a real gig but more of an interaction with the band.
I'm tamad to make detailed kwento coz I'm still in
*zombie mode*.
I got home around 2:30am after the gig and then woke up at 6am to go to work. And so I've had only about 3.5 hours of sleep as of now. So forgive my lack of enthusiasm to go into details with this post.
Anyway, we *had to* watch
Monkeyspank, 13 Needles
and
Join the Club
who all performed before Hale.
Aliw
nevertheless. College bands kind of thing. From UP, Ateneo, UST Conservatory of Music... stuff like that. I was most
aliw
with the stage presence of
Join the Club.
I think they were friends with Roll back in UST or something coz he was chatting with them at the parking lot after the gig.
Monkeyspank
was a nu-metalish kind of band so the vocals were growly/scream-o. Haha. I was thinking if Abbie could bear with the noise -- coz at least, Tin, Charo and I are appreciative of rock music... but Abbie never dug any kind of music bordering on the noisy side;-)
13 Needles
: I remember them doing a rock version of *gasp*
Quit Playing Games with my Heart
by BSB! Quite entertaining as much as hearing Blink 182 do a Britney with a rock version of
Hit Me Baby (One More Time).
So anyway, there. Hale played around past 12midnight already -- after the quasi-album launch of Join the Club. lol. ;P Dang! We were tricked into that one! hehe.
Hale played around 10 songs, their originals plus a cover of
Coldplay
's
Yellow
. I was pretty much digicamming the whole time. Nagtataka na siguro si Champ why forever na lang nakataas yung digicam ko.
(I was taking vids).
I could see kasi na napapatingin na sya to me since yun nga, I was holding up my digicam almost all throughout their set. My arm kinda hurts. huhuhu. Okay, coñotic taglish na post ko. *lol* I don't wanna think anymore.
*zombie mode*

Umm. I have three excuses why I'm not posting all the Hale pics I took:
I'm too much of a zombie now to collate it in Photoshop.
I'm selfish. Hehe. I'm not too happy with right-clicker-strangers.
Especially those who don't ask permission/make an acknowledgement when they use the pictures I took.
With the frequent traffic due to Hale search engine results, it will consume a lot of the allocated daily bandwidth of the various image hosts I use. I hate seeing tiny red "x" marks where my pics used to be.

And can I just say... it was hard to get a pic of Omnie coz Champ was directly in front of the drum set from the angle where we sat :( I only manage to see parts of Omnie in the videos. And Sheldon was hard to photograph too coz he was standing on the dim side of the stage. I don't like using my flash coz I don't wanna ruin the lighting effects of the stage so most of my Sheldon pics were quite dark and blurry.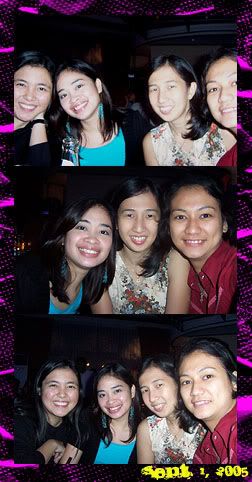 me and the girls (abbie, charo, tin)...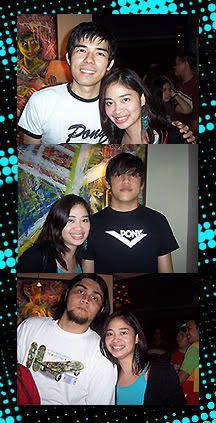 me and hale. (umm, sans omnie. hmm. didn't see him anymore after the gig...)
*Need I label this and name them? hehe. Kilala na sila ng buong Pilipinas !;-)
Funnies:
A: "hehe,para silang mga model ng Pony..."
B: "Uhh. Oo nga, sponsored sila ng Pony eh!"
A: "ano ba yan! sad song na naman. wala ba silang mga happy songs?"
B: "Uhh. MELODRAMA kasi yung music nila."
*wink, wink* :P